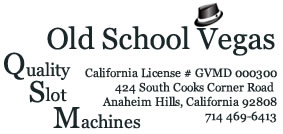 Free

3 Days 2 nights In
Las Vegas!

on the strip.
With a purchase of any Slot Machine.

Sale!! All clothing is 20% off
We invite you to visit the "OLD SCHOOL VEGAS CLOTHING" section to see all our great clothing and products and to shop our website. Our clothing is simply the best and you will be extremely satisfied with the look and feel of your purchase.
Enjoy the pictures and read the many tidbits of information and facts about the gaming areas and casinos throughout the United States at the bottom of each page. Play often and enjoy.

We always say "It's cheaper to own one than play one."
The story of us.
We would first like to personally thank all the many friends and customers we have made in the slot machine industry. It is through their generous help and support that has made this possible to get us to where we are today,  Thank you.
Quality Slot Machines is a family run business that started as a hobby and is now a serious business. At an early age Tim had always been intrigued by the casinos and was attracted to the colorful glass and sounds on the Slot Machines and said "One day I'll own one". As Tim grew he was surrounded by a family that enjoyed gambling and spent many family vacations in the Lake Tahoe and Reno area.

When Tim turned 21 he spent many weekends and holidays enjoying the casino environment with long days and nights in the gaming areas and in the early 1990s Tim took his first step and purchased a slot machine and the rest is history.  In 2003 Tim acquired a multitude of machines which he cleaned, refurbished and took a serious look at the slot machine industry and decided to start a business.
Quality Slot Machines has a large inventory of parts and accessories for many different slot machines and offer customers tech support and quality service. With the close proximity to Las Vegas and bi monthly trips to the Las Vegas area gives Quality Slot Machines the advantage to access slot machines from the casino and offer them to the secondary market.
Any questionable parts are replaced and because we are passionate about the quality of our Slot Machines we can offer a 1 year warranty on parts and labor. We believe in the old saying "The customer is always right" and we will do what ever it takes to keep you happy.

Jason Pullen, Harley Stunt Rider
Jason has been a motorcycle enthusiast for over 35 years and we are proud to have Jason as a part of our family. Jason not only supports "Old School Vegas" he wears "Old School Vegas". To learn more about Jason and watch videos click on his picture.